Services WPScale
Posted on 2 November 2020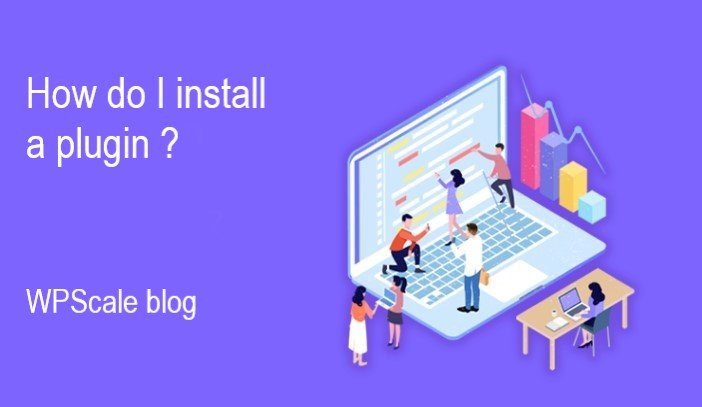 How do I install a plugin ?
WordPress leads the ranking of the best CMS. It's well ahead of Drupal and Joomla, with a 40% market share. It's an Open Source CMS with many advantages including a very large community. There's also its structured ecosystem with plugins and several resources available on the Net. To stand out, WordPress raises the bar even higher by offering more than 50,000 themes. Of course, the plugin remains essential to improve a site created with this CMS. Follow this guide to learn how to successfully install a WordPress plugin.
What you need to know about plugins
In the world of CMS, a plugin refers to those third-party modules that are added to a wordpress theme. Depending on the purpose of the plugin, it allows various improvements to be made to a site. Sometimes, incompatibility issues may arise as a result of using this tool. This is simply due to the fact that these plugins remain an external element. They were designed by a developer who was not necessarily involved in the creation of your site.
The best way to find these plugins is to go and find them in the WordPress directory. There are also other platforms that offer these bits of code for free. Some plugins obviously need to be paid for. When making your choice, you should check the update dates carefully. Comparing user feedback on forums and blogs can also help. This allows you to learn more about the plugin you require. Note that WordPress allows users to take advantage of thousands of plugins. In 2017, it enriched its library with more than 50,000 plugins.
In the course of 2020, the platform registered some 56,000 plugins in its directory. The choice obviously depends on the need for your site. Nevertheless, don't lose sight of the must-haves such as performance plugins, SEO and backup. As far as numbers are concerned, there is no real set limit, but it's best not to overdo it. Only use plugins that may be useful for your website. Also beware of the common misconception that using a lot of plugins will impact a site's download speed. Any slowness may be explained by the fact you went for badly coded plugins. Finally, if a plugin appears in the WordPress directory, it's safe to use.
Free or paid plugins ?
There are a large number of free WordPress plugins. Some are for comments, others for social networks. You can also find free plugins for backup, referencing, etc. This free service is also valid for some plugins dedicated to boosting the performance of a site. Yoast Comment Hacks and Suscribe to Comments are among the popular free comment plugins. For performance, there's CDN Sync Tool and WP super cache. Headspace to SEO and SEO Friendly Images rank among the best free WordPress tools for SEO.
Free plugins are an interesting choice for users, especially to save money. However, paid versions appear to be a good solution in terms of use. Some plugins meet complex needs. That's why their use in their free version can give the user a hard time. In addition, paid plugins are easier to use. The majority also provides you with greater stability of developments over the long term.
In the end, paying for a WordPress plugin is an investment that pays off. First because it gives you access to better tools to improve your site. Then, such a choice helps you save time. To find these plugins at a good price, several options are available. For Premium-type plugins, the platform CodeCanyon from Evato is a must for any website creator. Of course, it's advisable to study your needs before paying for a plugin. It would be a shame to spend money where it's not appropriate. If your expectations are confirmed, don't hesitate to pick through the sites dedicated to specific plugins such as WP Rocket and Gravity Forms. Otherwise, iThemes and WPMUDev also offer cheap plugins. Still on the internet, you can make your purchases on specialist merchant sites such as WPZoom and GraphPaperPRESS.
Of course, nothing is preventing you from unpacking the official WordPress directory. It has more than 50,000 plugins. For this bold choice, the warnings remain the same. The question of updating, plugin feedback, number of active installations etc should be checked.
Tips for installing a WordPress Plugin
The steps vary according to the plugin chosen. If it's free and therefore found in the WordPress directory, then proceed as follows :
Go to the WordPress administration then click on the "Plugins" menu then "Add"
You'll then see the "Highlight" plugins that take up most of the page. However, it's possible to filter the results. There are 3 options for this, including "Favourite", "Recommended" and "Popular".
If you're looking for a particular plugin, just use the search bar
Once you've found your Holy Grail, click on "install" and then "activate". This second command appears almost immediately after installation.
Plugins can also be installed via FTP. This option requires having File Transfer Protocol software. The user should also be in possession of identifiers that will be provided by the hosting provider. Nevertheless, this software has the advantage of being free. In addition, this installation procedure can be used for both free and paid plugins. For the actual installation of the plugins, here is how to proceed :
Download and unzip the plugin's zip file.
Then connect to the server via the FTP software. To reach your account, use your login and password.
In the FTP directory "/wp-content/plugins/", transfer the uncompressed plugin.
Once the transfer is finished, open the WordPress administration interface and go to "Plugins" then "Installed plugins". All you have to do then is activate the plugin.
If it's a paid plugin, the installation won't be any more complicated. To do this, you simply have to :
Go to the WordPress back office.
Then click on "Plugin" and then "Add". Here, make sure to click on "Put a plugin online".
Then send the ZIP file to WordPress, which will download and unzip it.
The next step is to select the plugin file for installation. Indicate its location to WordPress (Mac, PC). After installation, you just need to activate it.
The basics to know about using WordPress plugins
WordPress plugins are great tools that allow you to perfect a website. Be careful with your sources when buying these code snippets, though. Steer clear of cracked copies of Premium plugins. They are often real virus nests and their use will very quickly end in disaster.
As the world is never perfect, note that there are also badly coded plugins. It's these that are responsible for a site being slow most of the time. This will certainly lead to negative consequences on a site. For example, very slow download speeds can discourage visitors to your site.
Plugins offering several functionalities for the front end of a site can also sometimes be problematic. They require additional CSS styles and Javascript to work properly. As a result, this requirement leads to additional HTTP requests. The increase in requests will have an impact on the loading time of your site. This aspect must be taken into account when choosing plugins.
What solutions for better use of WordPress plugins ?
The first step is to ensure regular backups of your site. This allows it to be restored to its previous state if problems occur with plugins. Always use a reliable hosting provider to ensure safe use. This is a requirement to have a site that functions optimally.
Regarding choice of plugins, it may be wise to test them before use. This can be done on a production site or in a local environment. It's an opportunity to detect problems that may arise. For beginners, it's better to stick to the really useful plugins to ensure the proper functioning of the site.
Certainly, there are sites that work at lightning speed with nearly 1,000 plugins. However, these have been carefully chosen and well thought out by the developer. So unless you're an ace at using these codes, you should refrain from using tons of plugins. If necessary, it would be better to adopt multifunction plugins. This saves you from having to install several plugins at once.
Of course, it's advisable to check that the function doesn't already exist on WordPress before choosing a plugin. If this is the case, there's no need to waste time installing it. In addition, always remember to ask yourself seriously if the chosen plugin is useful for your visitors. It depends on the answer whether you decide to invest (for paying plugins) in these codes.
Finally, don't hesitate to remove plugins that aren't useful for your site. Sometimes, it can be useful to clean things up by checking your directory. Delete plugins that haven't been used for a long time and those you don't intend to use. To uninstall these plugins, simply deactivate them and then delete them.