Become our partner and earn money with WPScale by joining our affiliate program !
Offer WPScale hosting via your blog/site, your newsletter or via social networks and receive 20% initial commission then 10% recurring commission (i.e. you will then receive a 10% commission as long as the referred person keeps this subscription on their WPScale hosting service on each of the sales you refer).
It's a win-win partnership for the seller and the company : the seller receives a commission, and the company makes a sale
it probably wouldn't have made without them !
Here are a few examples and commission payments :
For a subscription of 1 WP monthly at €19,5 plus tax per month, you will receive 20% VAT included on the first monthly subscription amount and 10% the following months :
That is, €19,5 plus tax x 20% the 1st month = commission of €3.90 inc tax then the following months €19,5 plus tax x 10% or €1.95 inc tax.
For a subscription of 3 WP annual at €505 plus tax per year :
That is €505 plus tax x 20% the first year = commission of €101.00 inc tax then the following years €505 plus tax x 10% or €50.50 inc tax.
Your commissions will be paid to you by PayPal :
as soon as your earnings reach a minimum amount of €100.
To receive payment of your commissions, from your affiliate dashboard, click on "Request payment", you will then receive your earnings via paypal and will need to generate an invoice payable to WPScale and send it to us by email.
We offer a complete system with dashboard to track your stats (clicks, links, conversions, banners, etc.), request payment of your commissions.
Note 1 : affiliates are not entitled to a commission on their own subscription.
Note 2 : affiliations are not validated if a promo code is used.
Note 3 : if the sponsored party changes subscription, the recurring commission is cancelled.

Is this affiliate program for you ?
1/ You're able to provide us with a monthly invoice for the payment of commissions.
2/ You have a Paypal account to receive your earnings.
3/ You agree to :
use only ethical marketing methods,
not send spam to promote the sale of our hosting services,
not use fake promo codes.
Note : we reserve the right to terminate your membership if you do not comply with the above rules.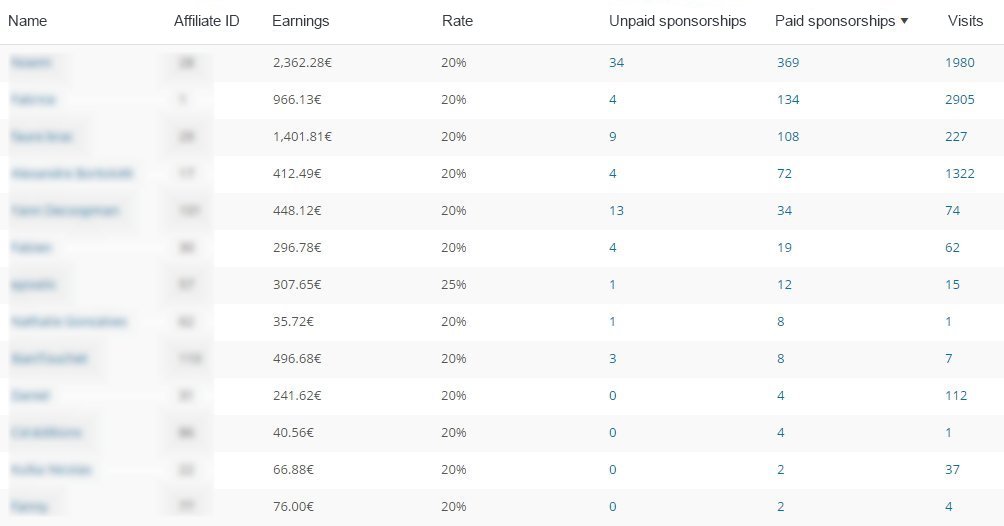 Join the WPS affiliate program
You meet all three of those conditions ?
Then this program is for you ! Click here.